Espresso Rubbed Tri-Tip

Who would have thought espresso and tri-tip would pair so well? This recipe is a Gnarly twist on classic sirloin. Try it tonight with a glass of our Authentic Black.
Yield: 6 SERVINGS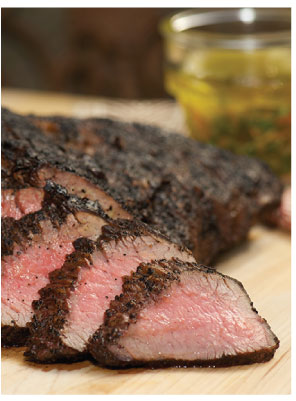 Ingredients

Chimichurri Sauce:


1 shallot, thinly sliced

1 Tbsp chopped parsley

1 Tbsp chopped chives

1 clove garlic, minced

¼ cup extra virgin olive oil

1 tsp salt

1 tsp sherry vinegar

Rub:

1 ½ tbs ground espresso

1 Tbsp brown sugar

½ tsp ground black pepper

½ tsp cocoa chili blend (optional)

1 tsp salt

1 tri-tip, about 2-2½ lb, cleaned
Directions

Combine sauce ingredients. Season with a pinch of pepper and refrigerate.


Combine dry seasonings and mix until well combined. Rub generously all over the tri-tip and refrigerate 1-2 hours.

Prepare and cook tri-tip over direct heat for about 5 minutes. Turn and continue cooking 5 minutes more. Rotate and turn every 5 minutes until internal temperature reaches 130ºF for medium rare, about 20-25 minutes total.

Transfer meat to a cutting board and rest 10 minutes before slicing across the grain. Serve with sauce.