Fig and Goat Cheese Crostini with Sage and Pinenuts

A perfect lite appetizer to start your Gnarly evening. This fig and goat cheese crostini pairs well with our velvety Pinot Noir.
Yield: MAKES 40 PIECES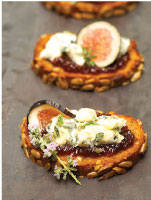 Ingredients

Fig Jam:

12 dried figs, cut in half

1 cup sugar

1 cup water

2 tbsp brandy

½ cup chopped toasted walnuts

Crostini:

1 loaf rustic seeded baguette, cut into 1/8-inch slices

¼ cup olive oil

½ lb creamy blue cheese

Sliced fresh figs, pinenuts, and sage for garnish
Directions

Preheat oven to 375ºF. Combine figs, sugar, water, and brandy in a saucepan. Bring to a simmer and cook 5 minutes. Remove from heat and set aside for 5 minutes more. Place ingredients in a food processor. Add walnuts and a pinch of salt then puree until smooth. Brush baguette slices with oil and bake until golden brown. Spread jam on baguettes, crumble cheese on top, and garnish with sliced figs, pine nuts, and sage.