Grilled Vegetable Panzanella

Our panzanella is perfect for a warm summer night's supper enjoyed on a backyard patio. Try it with a glass of our Chardonnay.
Yield: 4 SERVINGS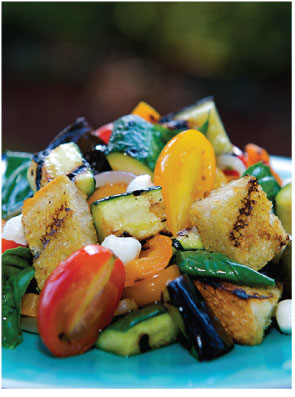 Ingredients

½ loaf day old rustic bread cut into 2-inch slices

½ cup extra virgin olive oil

1 Japanese eggplant, cut into quarters lengthwise

1 green zucchini, cut into quarters lengthwise

1 red bell pepper, cut into quarters and seeded

1 red onion, peeled and cut into thin wedges with the root intact

salt and pepper, to taste

1 bunch basil leaves, torn

1 pint cherry tomatoes, halved

¼ lb soft cheese (Fresh Mozzarella or Feta)

2 Tbsp white wine vinegar
Directions

Prepare a gas or charcoal grill for direct cooking.

Brush both sides of bread with olive oil, season with salt and pepper, and grill until well toasted. Cut into 1-inch pieces to place in a large salad bowl and set aside.

In a large mixing bowl, combine eggplant, zucchini, pepper, and onion. Add ¼ cup oil and season generously with salt and pepper.

Arrange vegetables on the grill, cooking on all sides until tender. Transfer to a cutting board and allow to cool enough to handle. Cut everything into bite sized pieces and add to the bowl with the bread. Add basil, tomatoes, and cheese then toss to combine. Add vinegar and as much olive oil as needed. Season to taste with salt and pepper.