Tacos Al Pastor

Take a trip south of the border with our tacos al pastor; pairs perfectly with our Gnarly Head Cabernet Sauvignon.
Yield: 6-8 SERVINGS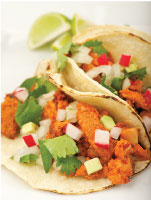 Ingredients

2 pork tenderloins, silver skin removed

1 dried guajillo chile pepper, stem and seeds removed

1 dried pasilla chile pepper, stem and seeds removed

¼ onion, finely chopped

3 oz pineapple juice

1 ½ tbsp white vinegar

2 cloves garlic, peeled

½ tsp ground cumin

½ tsp dried oregano

1 tsp chipotle in adobo sauce

2 tsp salt

1 Tbsp vegetable oil

24 small corn tortillas

3 limes, cut into wedges

2 avocados, sliced

1 bunch radishes, sliced

¼ cup chopped cilantro

2 limes, quartered
Directions

Starting at the tail end, slice the pork on a sharp bias into ¼-inch thick pieces. Add enough water to cover the chiles and boil them until soft. Once soft, drain them. In a blender, combine the chiles, onion, pineapple juice, vinegar, garlic, cumin, oregano, chipotle, and salt then blend until smooth. Combine pork and sauce. Cover and refrigerate for 1-4 hours.

Preheat gas or charcoal grill. Cook port for 30-45 seconds per side and transfer to a warm platter. Serve with warm tortillas, avocado, radish, cilantro, and limes.