Authentic Black
Dark and inky. It has bold fruit flavors and finishes with a hint of rich dark chocolate.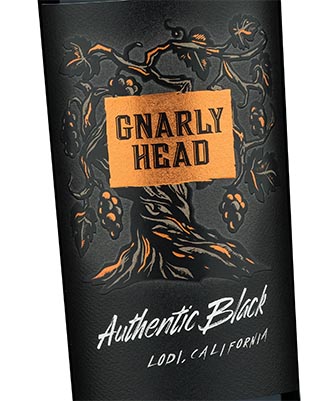 WINE
True to its name, Gnarly Head Authentic Black opens with brooding aromas of black cherry, black licorice and vanilla providing a powerful entrée to this big, robust Petite Sirah-based blend. Dark and inky in the glass, concentrated flavors of boysenberry and dark chocolate are framed by hints of baking spice on the finish. Styled to stand up to the heartiest of dishes, boldly pair this full-bodied wine with venison chili, meat lovers pizza or grilled rib eye steak.
VINEYARDS
Gnarly Head Authentic Black is crafted using grapes from select vineyards throughout the Lodi region. Lodi has an ideal climate for growing exceptional, full flavored grapes – long, warm summer breezes from the ocean in addition to well-draining sandy soil.
WINEMAKING
Fruit for Gnarly Head Authentic Black was harvested during the cool night hours and then delivered to the winery. Following de-stemming, the grapes were fermented slowly in stainless steel fermenters and then pressed gently into stainless steel tanks. To accentuate the concentrated fruit flavors and add an extra layer of complexity, the wine was then racked on a combination of French and American oak to age.