Authentic Red
Big, bold Zinfandel-led red blend that hails from a true grit American town: Lodi, California.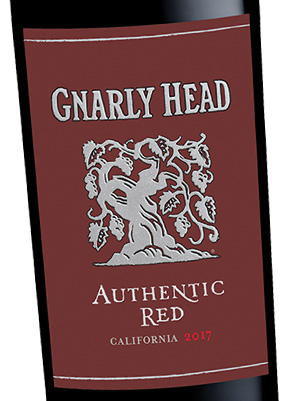 WINE
Authentic Red is a rowdy blend of Zinfandel, Merlot and Syrah with a splash of Malbec. The Zinfandel component in this blend hails from some of the oldest vines in California, and these brash, unruly vines produce full flavored grapes. Authentic Red has a juicy core of lush black cherry and raspberry flavors with layers of spice and vanilla. Boldly pair this wine with BBQ ribs, a hearty burger, or go all out with New Orleans-style red beans and rice.
VINEYARDS
Our Authentic Red is crafted using grapes from select vineyards throughout the Lodi region – known as the "Zin-famous" appellation. Lodi has an ideal climate for growing exceptional grapes – warm summer days and cooling nighttime breezes from the ocean, in addition to well-draining sandy soil. A portion of our Zinfandel grapes are hand-selected from the Mokelumne River AVA, home of some of the older and most respected Zinfandel vineyards in the state. Our other red varietals are sourced from a number of vineyards including the rolling foothills of the Borden Ranch AVA.
WINEMAKING
Older vines produce fewer grape clusters, but the small berries yield intense, dark fruit flavors. Grapes for Authentic Red were harvested during the cool night hours then delivered to the winery to be de-stemmed and gently pressed into fermentation tanks. After seven to nine days of fermentation, the wine was racked to concentrate the abundant fruit flavor and add complexity.