Pinot Grigio
Bright aromas and fruit-driven flavors with zesty acidity.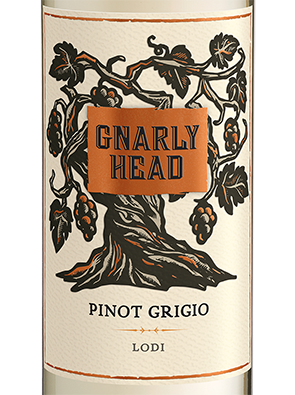 WINE
Gnarly Head Pinot Grigio is the Maserati of California white wine, and it's time to take it for a spin. This bright white wine boasts citrus blossom, tropical fruit, honeysuckle and white peach aromas, followed by luscious flavors of nectarine, lemon and honeydew wrapping up with a clean, refreshing finish. Crisp fruit and zesty acidity make this medium-bodied wine a perfect aperitif or pair for spicy ginger pork, grilled seafood kebabs or spinach salad with warm bacon vinaigrette.
VINEYARDS
The majority of the fruit for Gnarly Head Pinot Grigio is selected from vineyards in the Lodi region. Known for its classic Mediterranean climate of warm days and cool maritime breezes, Lodi produces well-balanced Pinot Grigio grapes, which combine delicate floral aromas with full, ripe fruit flavor. A small portion of the fruit comes from our San Bernabe Vineyard in Monterey County. As one of the coolest growing regions in California, this vineyard contributes grapes with crisp, bright acidity and brilliant flavor concentration.
WINEMAKING
Fruit for the Gnarly Head Pinot Grigio was harvested in the cool hours of the night, delivered to the winery and immediately pressed into fermenters. The subsequent juice was cold-settled and racked clean. Fermentation began and proceeded at low temperatures in a controlled and steady manner, which maximized the spectacular fruit and floral aromas that a perfectly righteous Pinot Grigio can produce. Aged entirely in stainless steel, this Pinot Grigio embodies the essence of bold, crisp California wine.