Pinot Noir
Voluptuous, sleek tannins and lush fruit with flavors of violet, black cherry and plum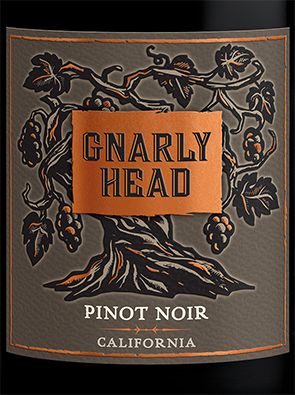 WINE
Gnarly Head Pinot Noir takes "the heartbreak grape" for a walk on the wild side. This powerful pinot touts voluptuous aromas of red cherry, vanilla, earth and spice, followed by a rush of black cherry and plum with hints of toasted hazelnut, tobacco and cigar box on the palate. Supple, sleek tannins and lush fruit make this wine a perfect pair for salami and arugula pizza, slow roasted pork loin, or dry brined chicken stuffed with sausage and peppers.
VINEYARDS
Grapes for our Gnarly Head Pinot Noir came from California growing regions notorious for growing great Pinot Noir: Monterey, Lodi and the North Coast. Fruit from each area brought a different layer to the overall blend. Vineyards in the Lodi region—a little-known source of fruit for many sparkling wine houses—provided the bold backbone for Gnarly Head Pinot Noir. North Coast fruit brought a wild element of smoky, savory aromas and flavors, while the Monterey fruit added a pure, ripe Bing cherry characteristic made famous by the region.
WINEMAKING
Grapes for the Gnarly Head Pinot Noir were harvested in the cool hours around dawn, delivered immediately to the winery, and then destemmed into fermenters and allowed to rest for 24-36 hours before beginning fermentation. The fermentation temperature was adjusted slightly cooler than normal to allow for better control of extraction and to preserve the delicate fruit that is expected in a Pinot Noir. After primary fermentation, the wine was pressed and then immediately racked onto French and American oak for malolactic fermentation, as well as aging to both harmonize fruit flavors and add complexity. The resulting wine is a Pinot Noir that punches well above its weight, in true Gnarly Head fashion.