Salt & Pepper Chicken Wings with Spicy Dipping Sauce

Perfect for game day, our wings are a Gnarly balance of savor and spice and pair well with a glass of our Sauvignon Blanc.
Yield: 5-6 SERVINGS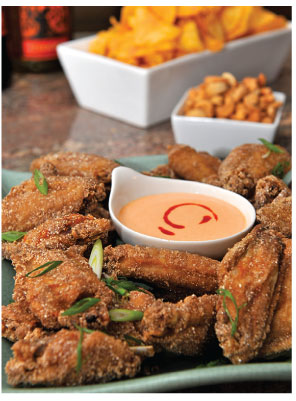 Ingredients

2 qt vegetable oil

1 cup white rice

5 ½ tsp ground white pepper

5 tsp salt

1 tsp five spice or ground allspice

½ cup mayonnaise

2 ½ tsp Sriracha or garlic chili paste

2 limes, juiced

4 lbs chicken wings
Directions

Heat oil in a deep fryer to 375ºF and prepare a draining rack. Place the dry rice in a sauté pan over medium heat and cook until lightly toasted. Transfer to a spice grinder and grind to a fine powder. Place 2/3 of a cup of rice powder in a large mixing bowl. Add pepper, salt, and five spice then mix well.

In a mixing bowl, combine mayonnaise, Sriracha, and lime juice to taste. Refrigerate until served.

Toss wings in seasoning mix and pat off excess. Carefully place in fryer and cook for 7 minutes, maintaining 375ºF. Transfer to the draining rack as you continue to cook the remaining wings. Serve with sauce.